MES Parents: We will be celebrating Kansas Day on Friday (Jan. 27th) and students can show their pride in being a Kansan! Students may dress as early pioneers, cowboys/cowgirls, farmers or ranchers all the while to celebrate Kansas becoming a state!

Marion High School is thrilled to announce the 2022-2023 first semester honor roll! Congratulations to all students earning this honor!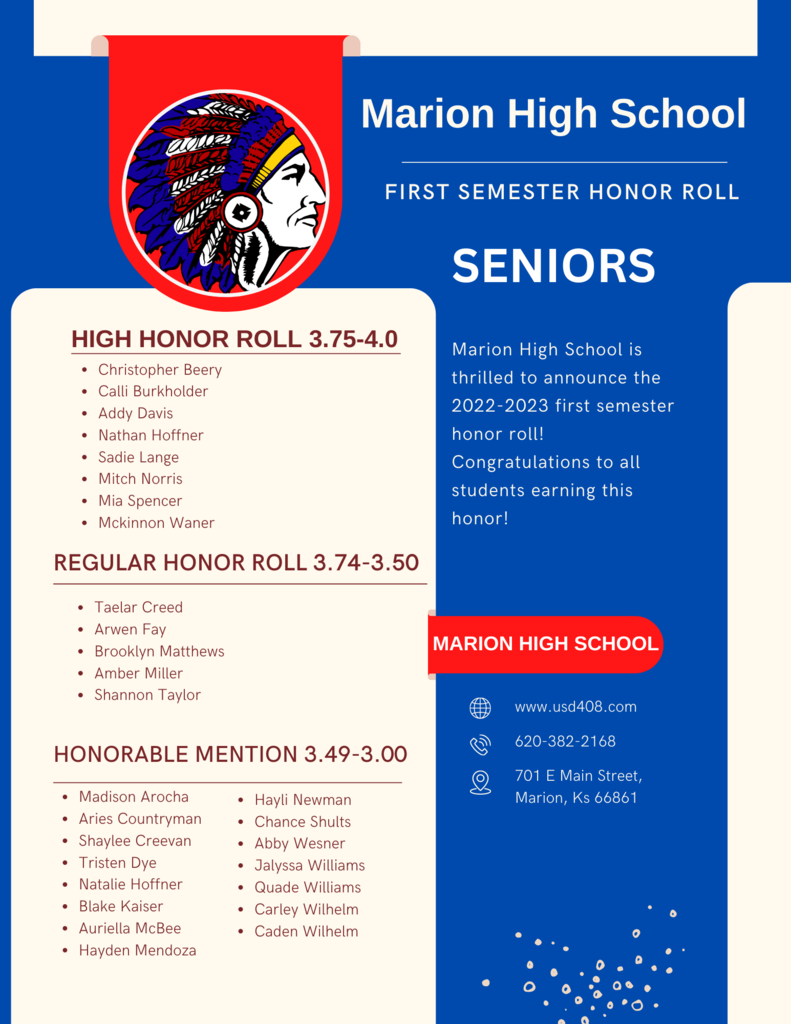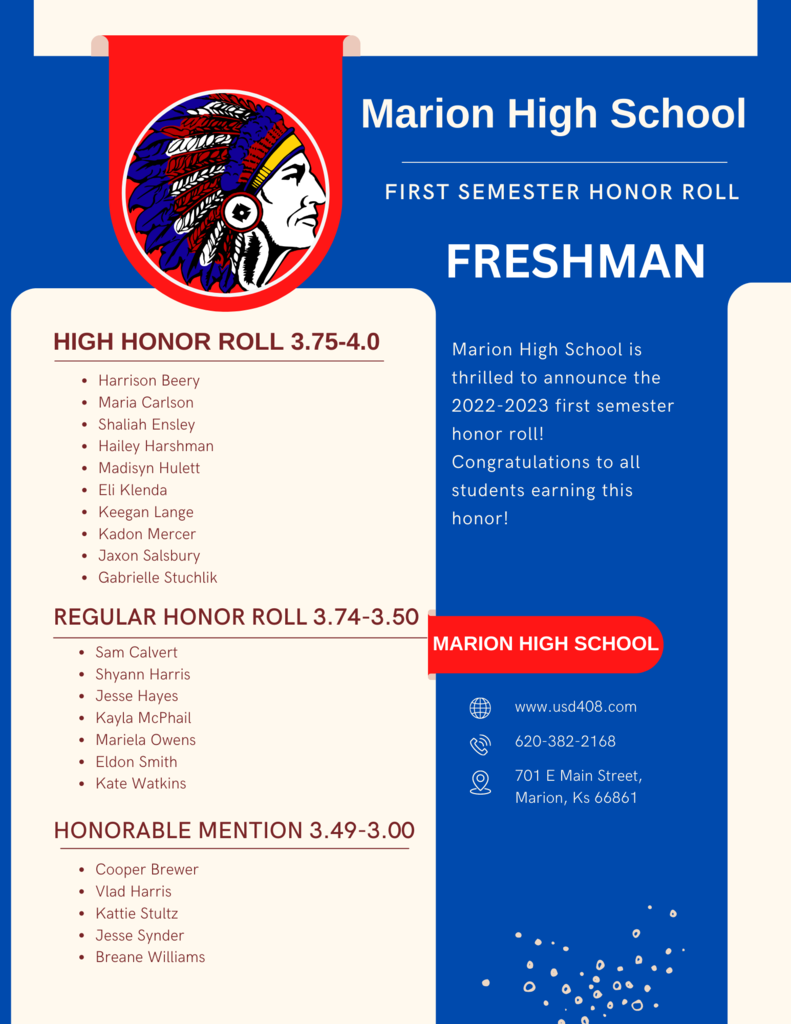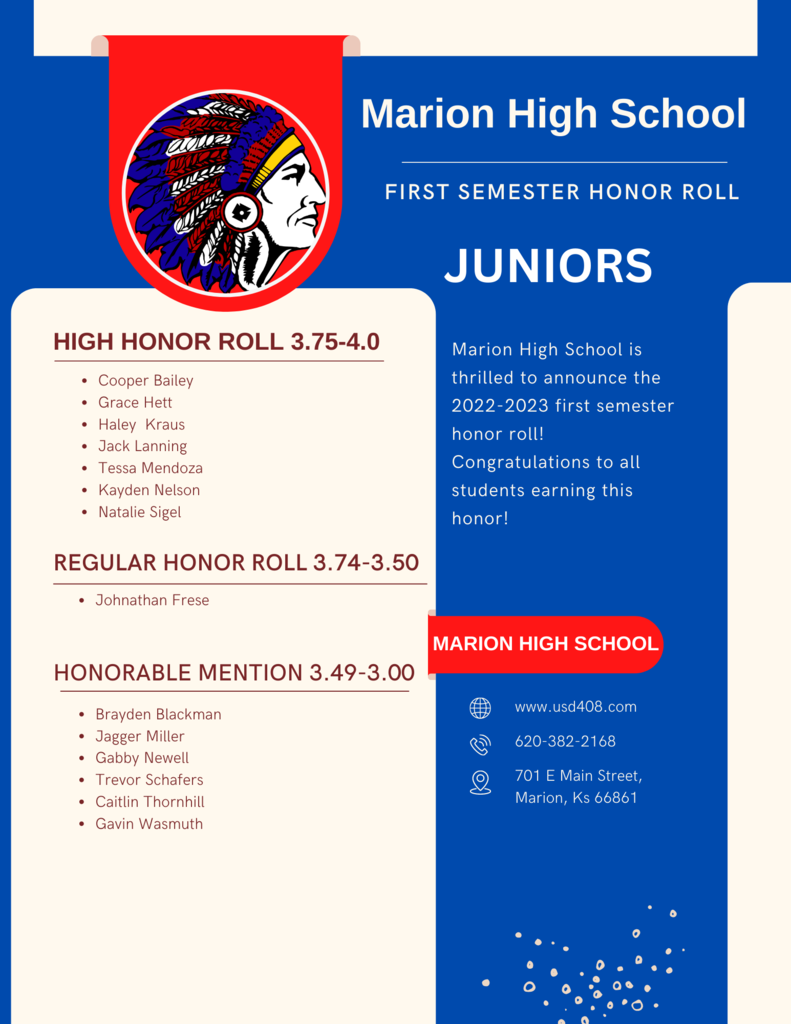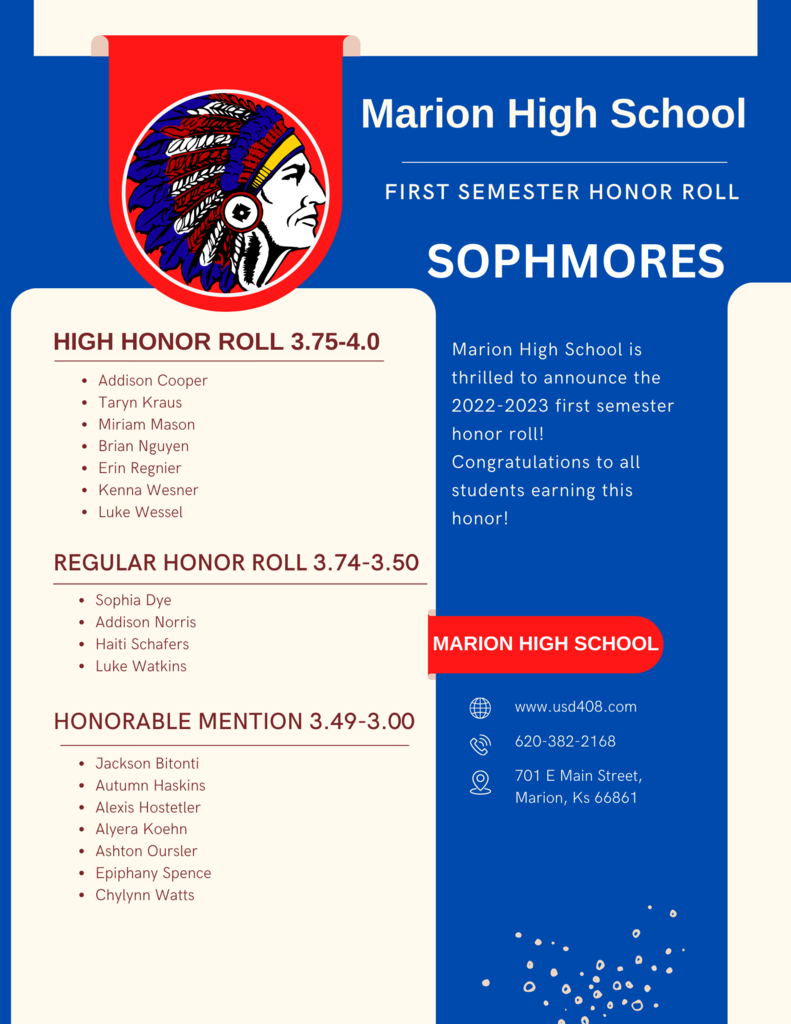 With the forecasted weather for tomorrow and having to leave early and the distance of the swim meet, the high school boys will not attend the meet tomorrow at shawnee Mission East. Thank you.
USD 408 Reminder: NO SCHOOL on Monday, January 16th. Classes for K-12 will resume on Tuesday, January 17th. Have a great weekend!
MES Parents: Just a reminder for tonight - wear t-shirt (shirts will be handed out tonight)! - wear black pants or black shorts and socks - be at the SAC by 7:30pm (you get in free!) - come sit with Coach Rice in the bleachers by the cheerleaders at the beginning of the 2nd quarter of the boys' game (starts at 7:30pm) -- once everyone is there, we will go stretch and get ready for our dance!! - be ready for a fun evening with the MHS cheerleaders!!!
Grades 3-5 Parents: This slip is going home today as we start back up Coding Club! We will meet on Wednesdays starting at 3:45 and going until 4:15. You must pick up your child or they walk/bike home, NO BUSES. Start date is January 25th and the signed papers must be back no later than FRIDAY, JANUARY 20th. Any questions, please call Mr. Wasmuth at (620) 382-3771!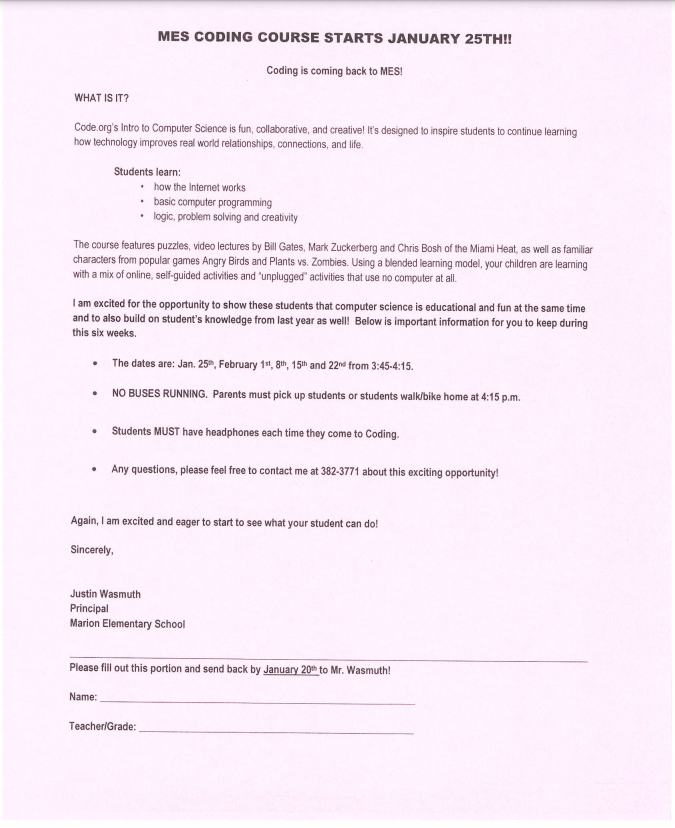 Marion Elementary hosted their annual Spelling Bee. Anna Carlson took first place and Brianna Wesner claimed second. These two ladies will compete at the Marion County Spelling Bee on February 15th in Peabody. The other participants were: Alexis Brewer, Liam Jeffery, Wyatt Holland, Henry Schadel, Tessa Haines, Wyatt Salsbury, Kane Hill, Madalyn Parmley, Bea Madgwick and Noah Richmond. Congrats to all who participated this year!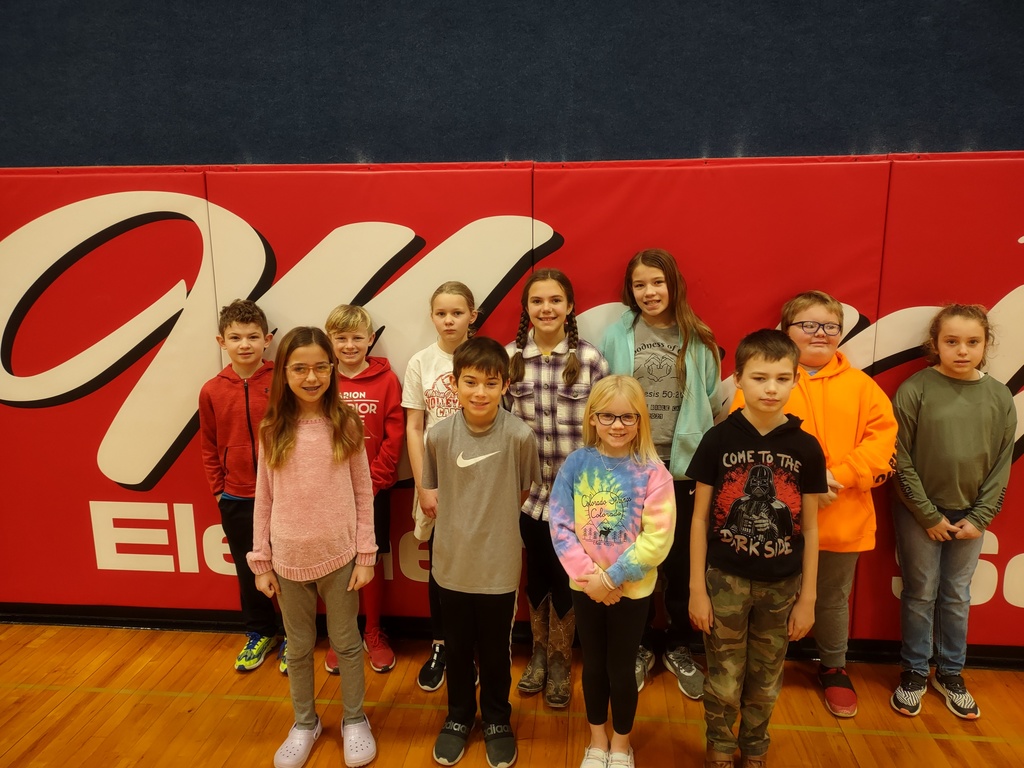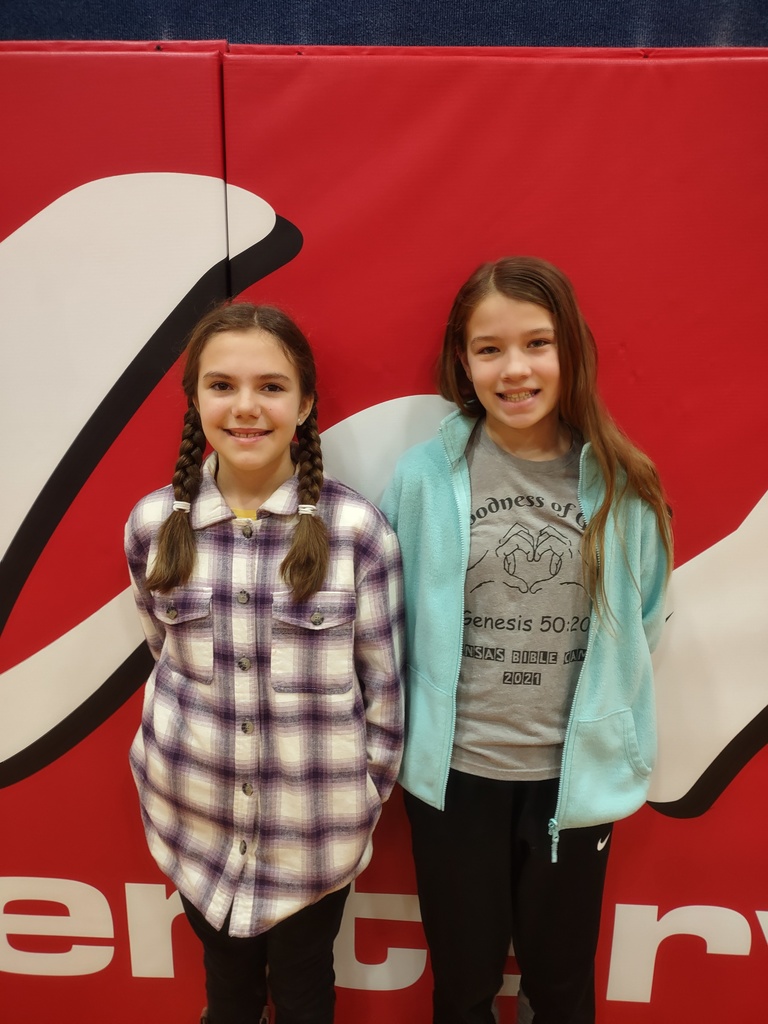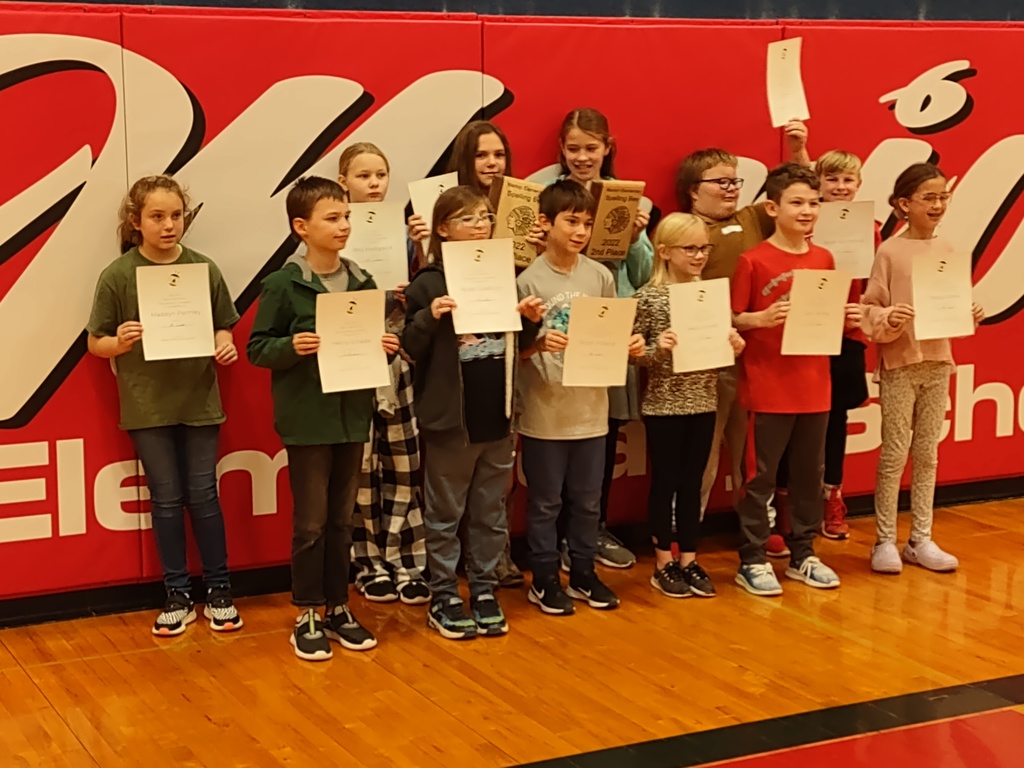 January is such an exciting time here at MES! On Jan. 5th we started our annual One School, One Book read aloud! The WHOLE school will be reading the same book at the same time! There will be trivia questions at the morning assembly, where students answering correctly will win a prize associated with our story. Make sure to ask your student/s what story we are reading on every day. After the book is finished, students will gather in the library to watch the movie version of the story. We will compare similarities and differences between the book and the movie. A yummy snack associated with the story will be enjoyed!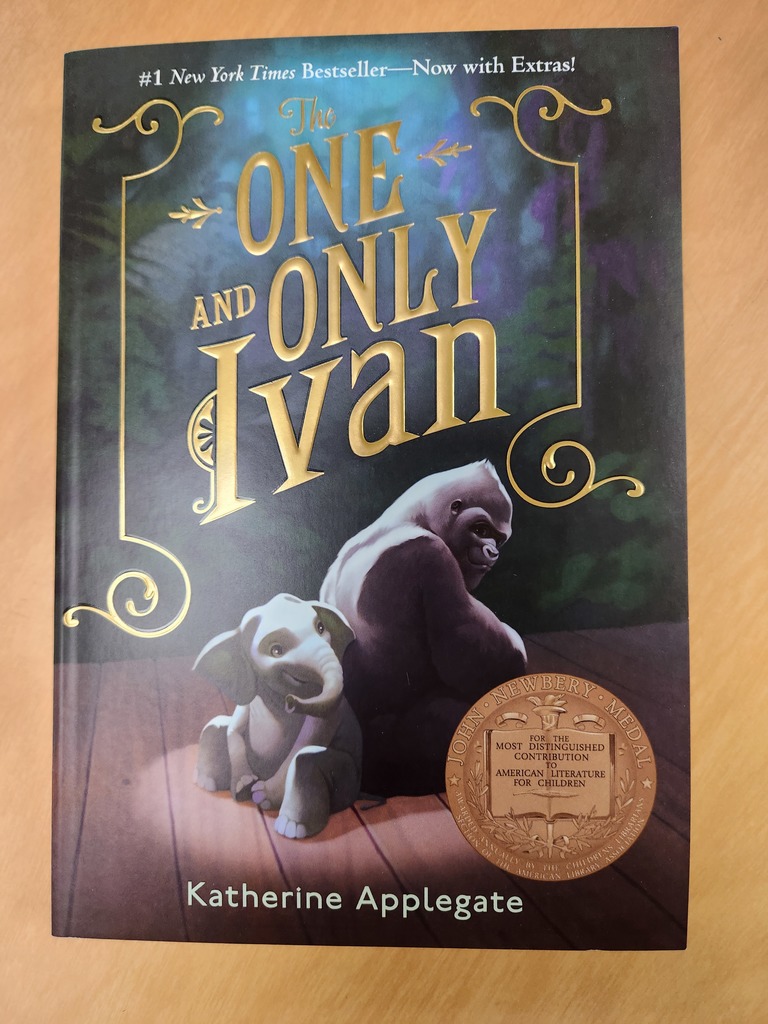 MES Parents: Information from Ms. Rice: The cheerleaders & I are SO excited to see all the girls this Saturday at the SAC for little warrior cheer camp!! Just a reminder: camp time changed to 4:30-6:30pm to accommodate rec league basketball.

Meet the MES 2022 Santa Reindeer Team. In guidance, the students completed job applications and based on their applications these 12 were selected in 3rd, 4th, and 5th grades. All the students did a great job! Congrats New Hires!
MES Parents: A few items for this week. 1) We will have PJ Day on Wednesday. If you child wants to wear PJ's before heading out on break, they sure can! 2) We will be releasing school at 12:00 on Wednesday. Please make sure your child has a plan for after school. 3) We will have sack lunches for students on Wednesday. If you child needs a lunch, we will be taking numbers tomorrow (Dec. 20th). Thank you for your support of MES and have a great Christmas Break!

Singers put on a night of Holiday cheer filled with Christmas dishes, festive outfits and holiday musical favorites! These students took ownership to learn solos, duets, and ensemble pieces along with their group pieces. This is a great group of students!
Marion high schoolers! Join the MHS cheer squad in getting into the Christmas spirit next week with some fun dress up days! 🎄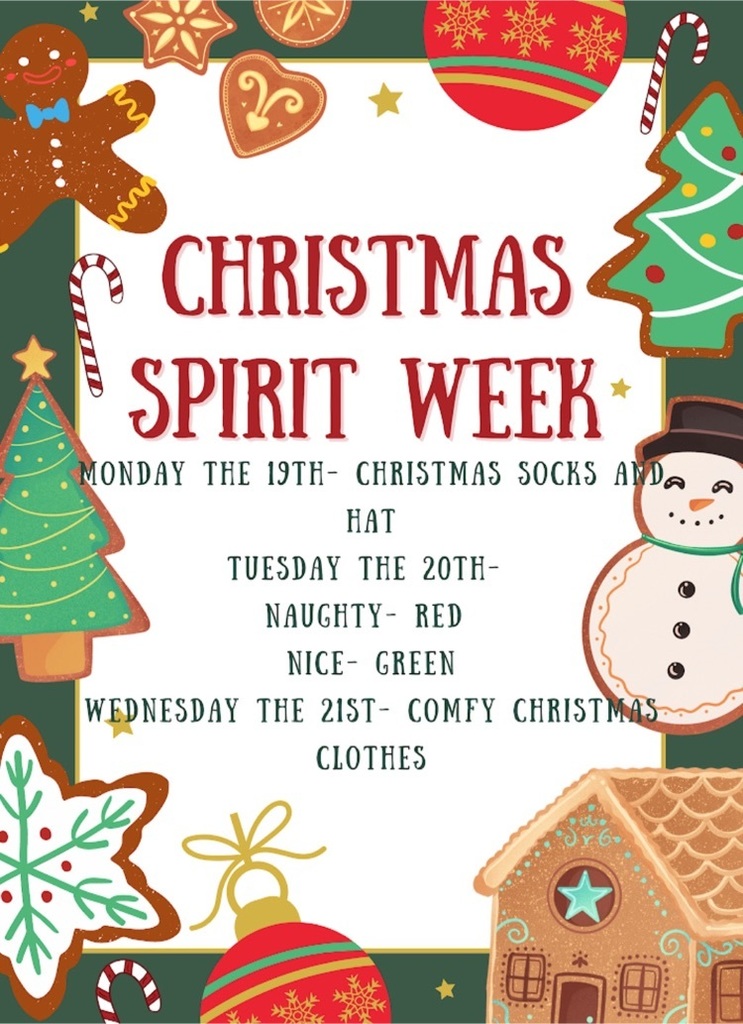 Congratulations to Alyera Koehn, Sara Groening and Shaliah Ensley on their debut opera performance! The students carved out time for many rehearsals and put the performance together with the full cast in only one week! Thank you to Music On Site Inc. for sharing opera here in Marion!
Marion-Florence Bands Fund Raiser Update! Popcorn and coffee ordered for the Marion-Florence Bands fund raiser should be ready for pick-up by Friday, December 16. Please make arrangements for you and/or your band student to pick-up the products and deliver them to customers as soon as possible. Contact Mr. Glover if you have questions! Thank you for your support of the Marion-Florence Bands!!!

Come see Marion's own Shaliah Ensley, Sara Groening, and Alyera Koehn sing as chorus members this Thursday @ 7pm! The performance is FREE! A special thank you to Wagon Wheel and The County Seat Decorating Center for participating in sponsoring this event!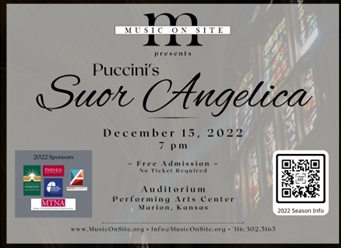 Come to the SAC tonight and cheer on the MHS basketball teams as they take on Eureka. All USD 408 students K-12 get it free! Girls start at 7:00 and Boys approx. 8:30! Go Warriors!

Mr Grinch chose to come back to MES for a refresher course on being kind and our students are up for the challenge!! Let the learning begin and let's see if the Grinch's heart will grow!!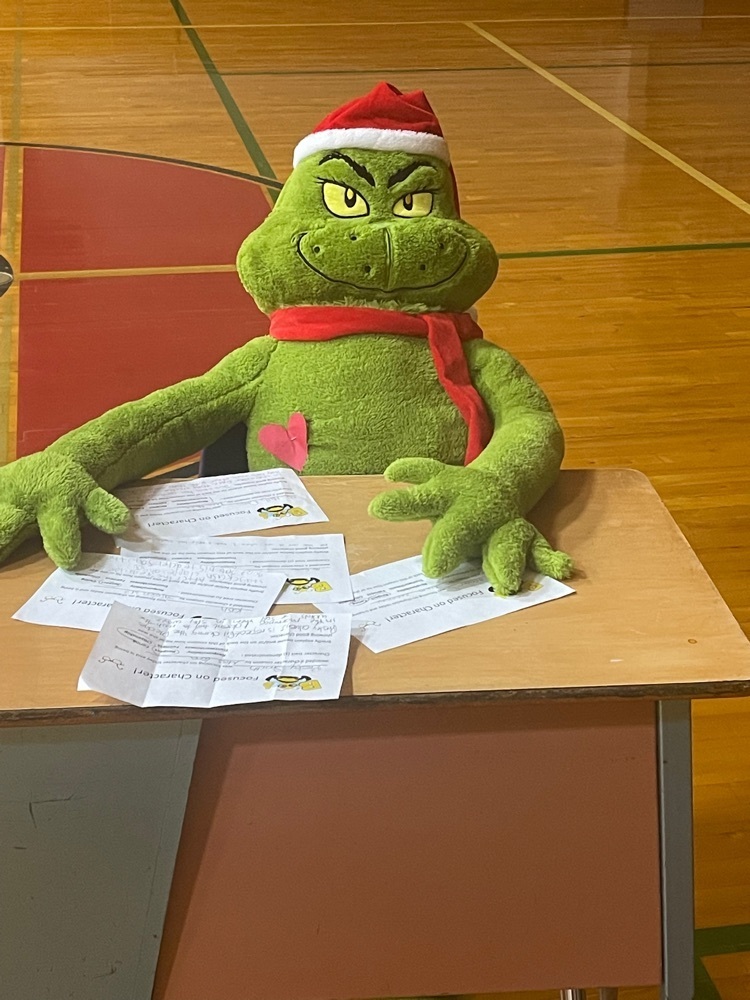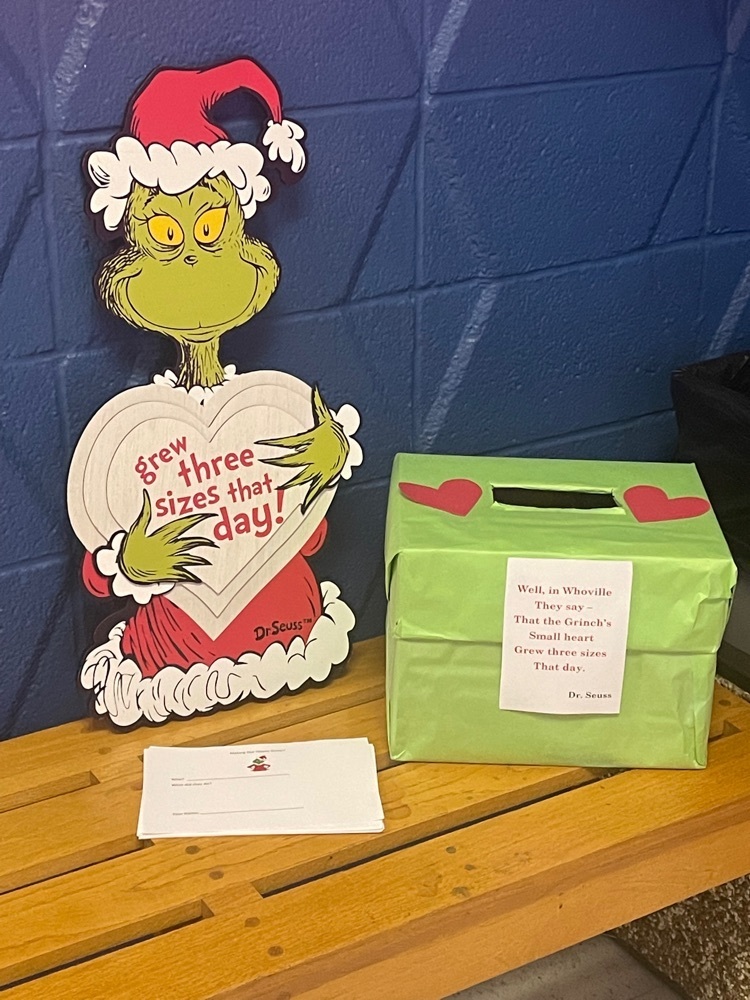 Little Warrior Cheer forms for basketball are being sent home with first - sixth grade this week! Important information: - practice on Saturday, January 7 from 2-4pm @ SAC - performance on Friday, January 13 @ halftime of varsity boys basketball game (around 7:30ish) - please return form with shirt size to office with $25 by December 16 (checks can be made out to MHS Cheer) -- this will ensure your little warrior will get a t-shirt!!! Any questions? Email Coach Rice -
riceall@usd408.com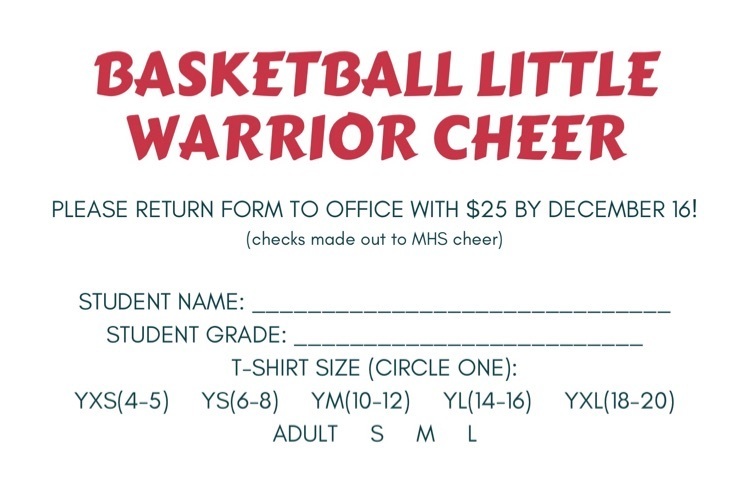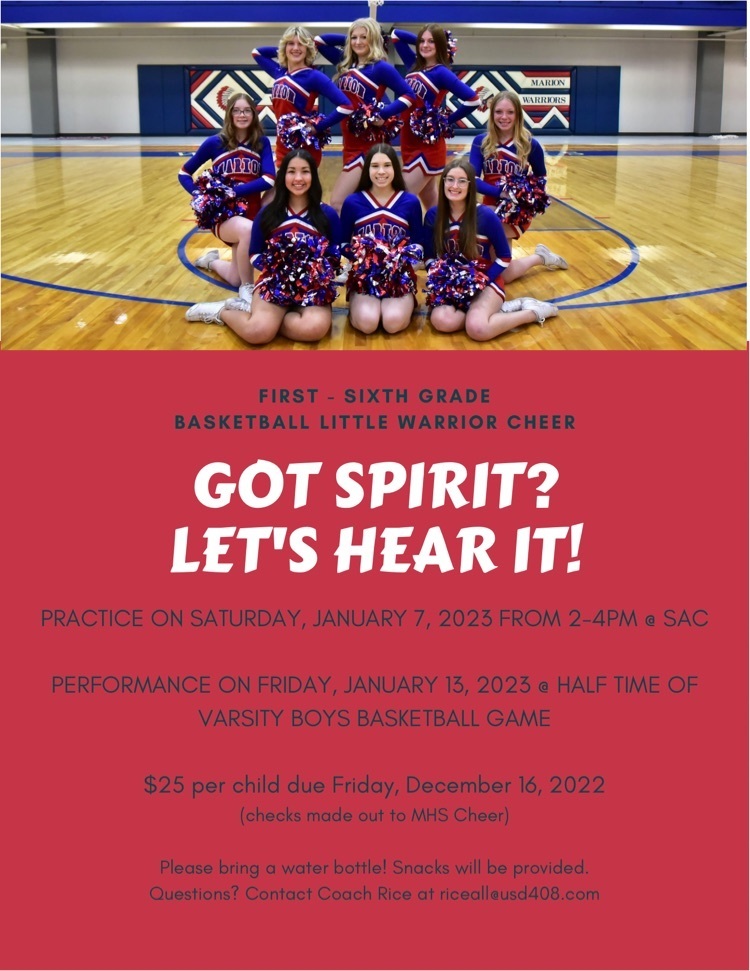 Come hear your holiday favorites and have a delicious meal! There are still 15 spots available for Home For Christmas. Reservations need to be made by Sunday, December 11th.