Order A Singing Valentine Today! Singers will deliver singing valentine's on Monday, February 13th and there are still slots available!
Marion-Florence USD 408 is taking applications for a Baseball/Softball Complex Field Manager for the Summer REC Program. Interested individuals should contact the Central Office, 101 N. Thorp, Marion, 620-382-2117 for an application. Application deadline is March 10, 2023. USD 408 is an equal education opportunity agency.
Marion Community: The Facebook page for the rec department is up and running. Search USD 408 REC and like the page for updates on the happenings of the Marion Rec!
MES Parents: MES will be having a great week of Chiefs spirit leading to the big game on Sunday! Attached is the schedule for each dress up day. We hope to see lots of red and gold next week!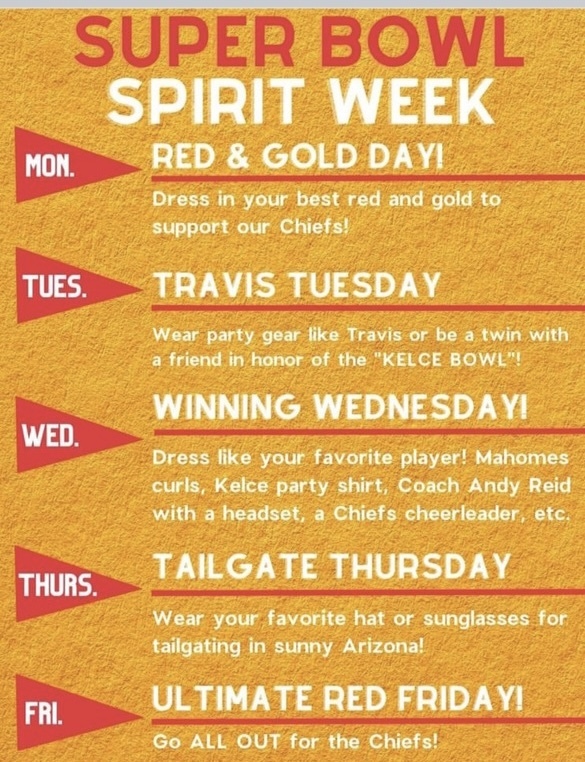 Congratulations to our January Character Students of the month for consistently showing character at MES! Way to go Weston, Rhett, Guss, Mirriam, Evie, Saylor, Amelia, Chevy, Koleman, Richard, Cooper, Averi, Hazel, and Sophia! Keep focusing and shining with character!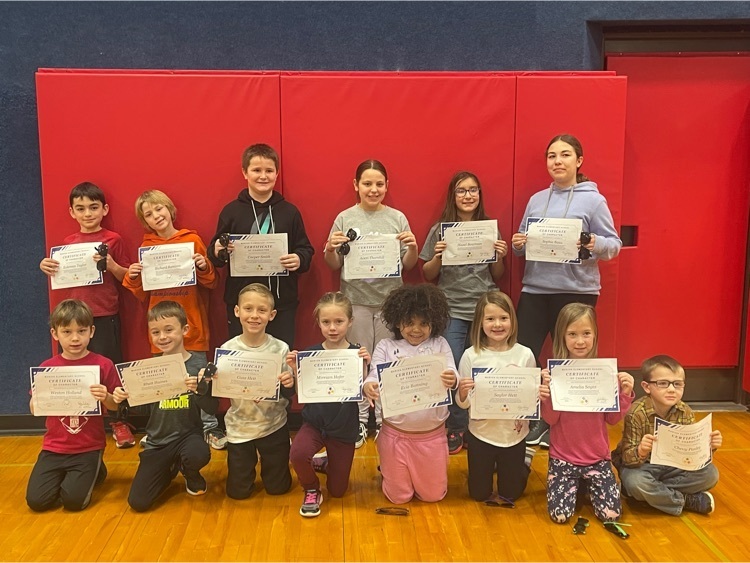 Come get dressed up and enjoy an evening of desserts, appetizers and familiar romantic songs! MHS Singers will be hosting "A Black Tie Affair" this February 16th! Limited availability, so make your reservation soon!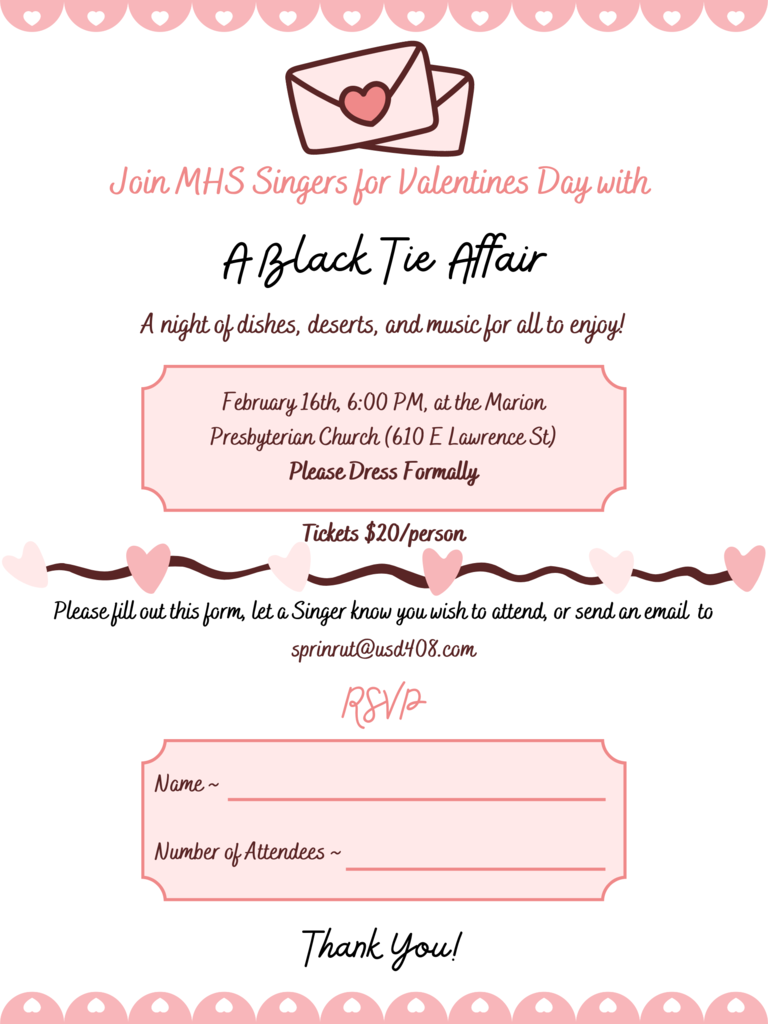 Show someone you care for them! MHS Singers will be providing Singing Valentine's from 8am-3pm on Monday, February 13th. This is a great surprise for anyone!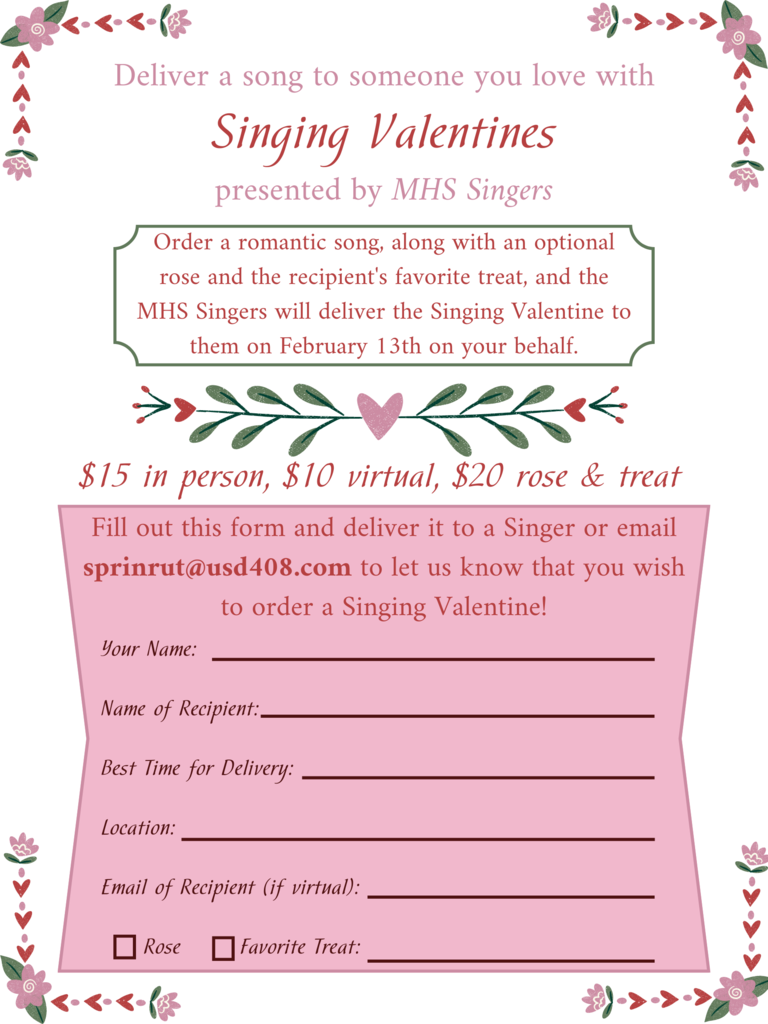 Over 400 guys came together to learn different pieces and perform for the day at Bethany College! It was a great day for our MHS guy singers!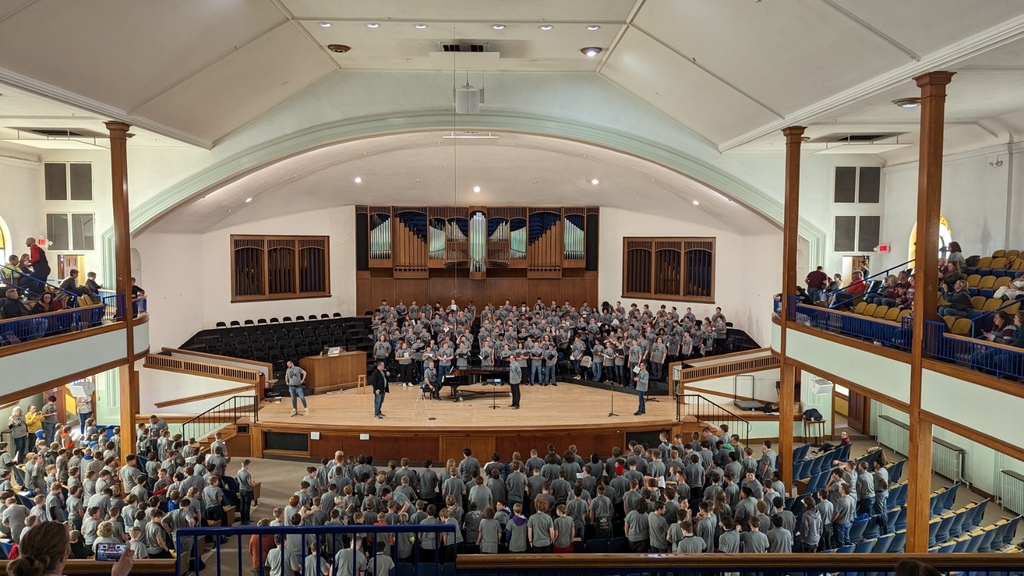 Good Morning Parents, A change in the Friday lunch menu.  Below are the updated menu items. Cheeseburger, Fresh Garden Salad Cowboy Beans, Fresh Fruit or Chilled Fruit & Kansas Day Birthday Cupcake! OR Popcorn Chicken Salad, Italian Bread & Kansas Day Birthday Cupcake! Thank you!
Juniors and Parents: Just a reminder about the FREE ACT which will be offered at MHS on March 28th. All juniors will take the ACT for free during the school day. There is no need to register for the test. Please contact Mr. Venable with any questions.
Marion-Florence USD 408 is taking applications for lifeguards. Applicants must be 15 years of age or older and will need to be Red Cross Certified. There is a possibility that a lifeguard certification class will be held in Marion. Interested individuals should contact the Central Office, 101 N. Thorp, Marion 620-382-2117 for an application. USD 408 is an equal educational opportunity agency.
MES Parents: We will be celebrating Kansas Day on Friday (Jan. 27th) and students can show their pride in being a Kansan! Students may dress as early pioneers, cowboys/cowgirls, farmers or ranchers all the while to celebrate Kansas becoming a state!

Marion High School is thrilled to announce the 2022-2023 first semester honor roll! Congratulations to all students earning this honor!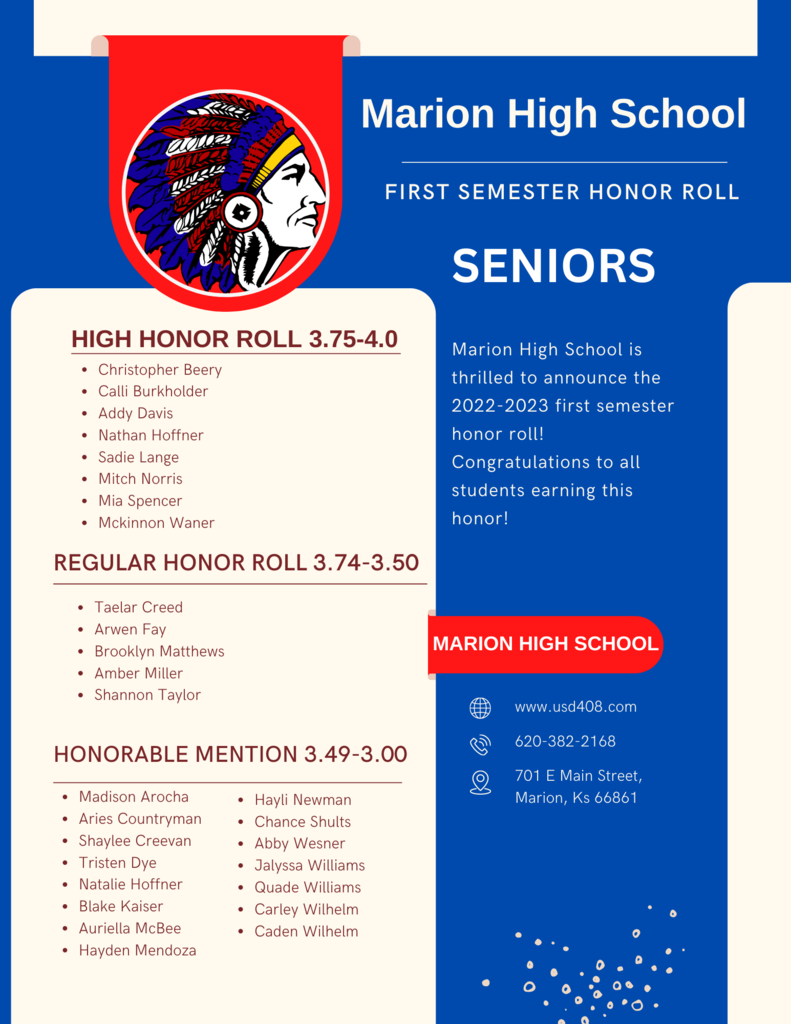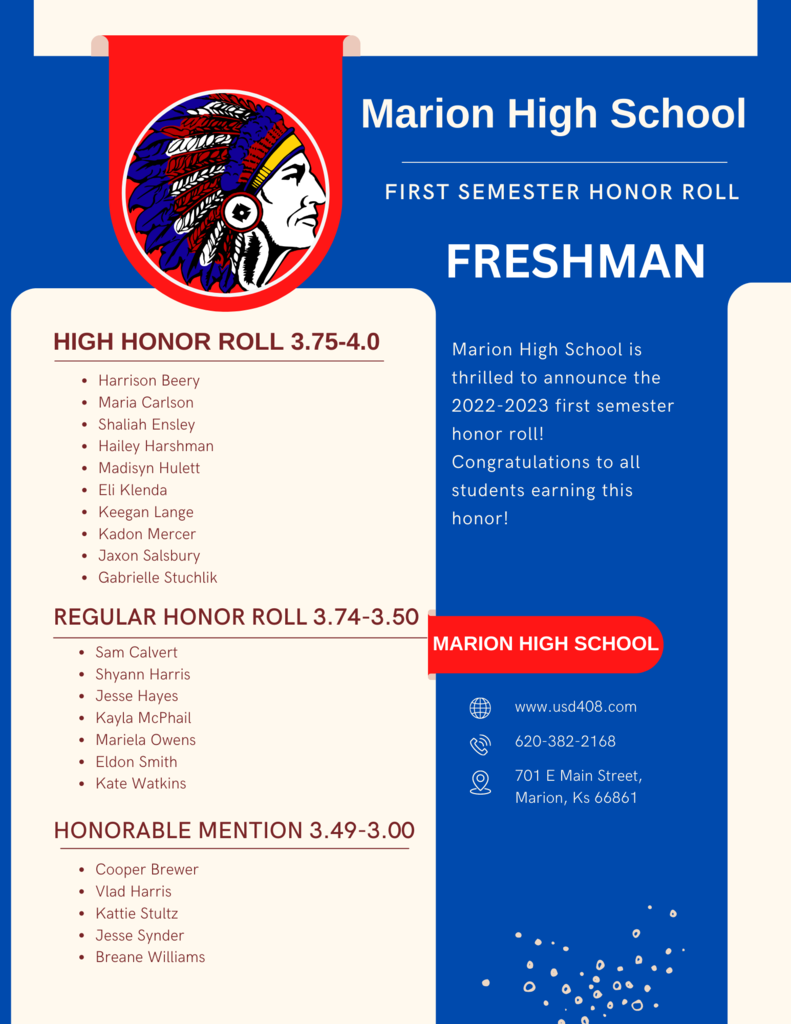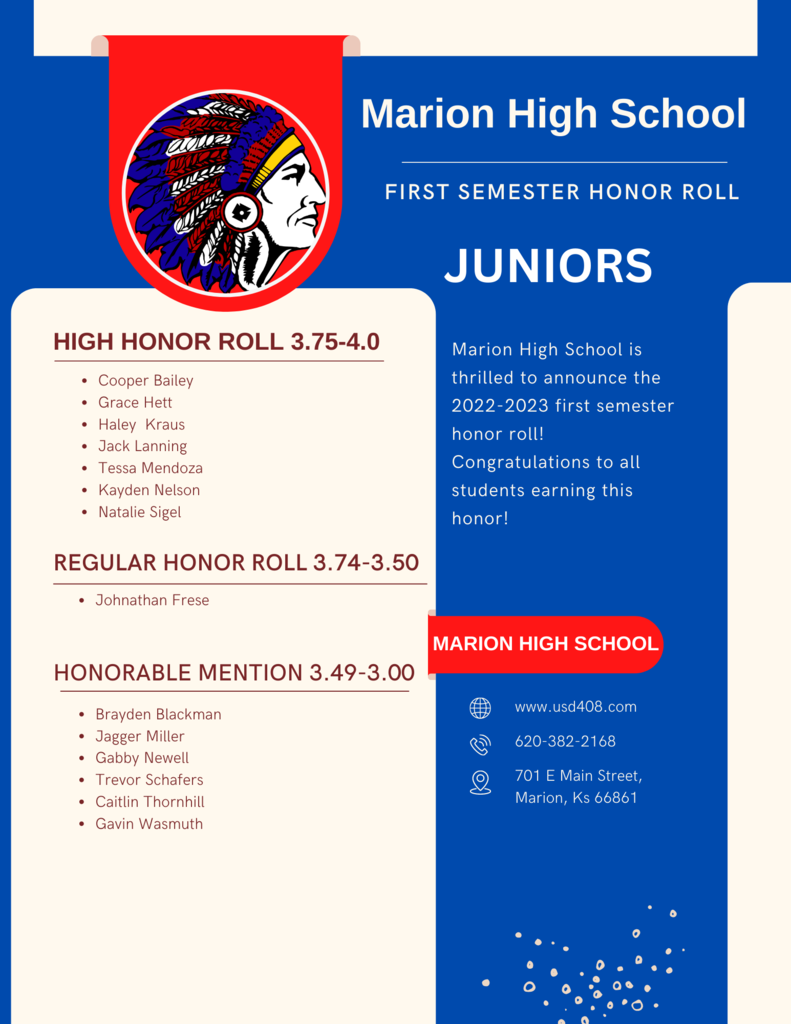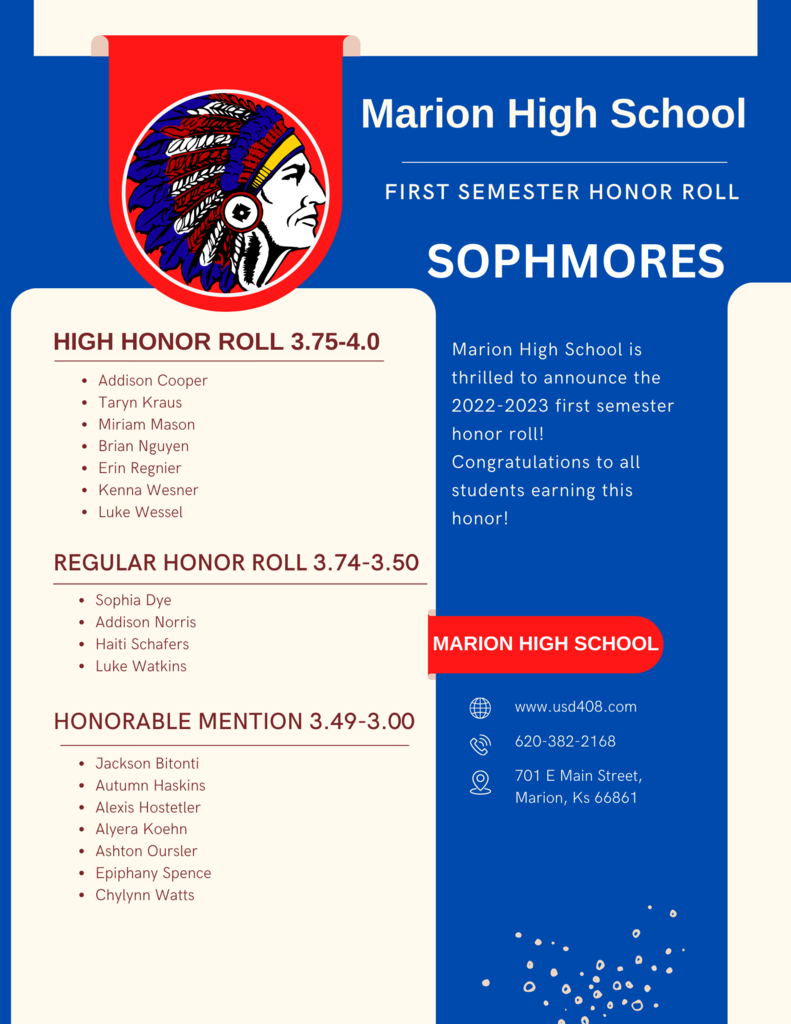 With the forecasted weather for tomorrow and having to leave early and the distance of the swim meet, the high school boys will not attend the meet tomorrow at shawnee Mission East. Thank you.
USD 408 Reminder: NO SCHOOL on Monday, January 16th. Classes for K-12 will resume on Tuesday, January 17th. Have a great weekend!
MES Parents: Just a reminder for tonight - wear t-shirt (shirts will be handed out tonight)! - wear black pants or black shorts and socks - be at the SAC by 7:30pm (you get in free!) - come sit with Coach Rice in the bleachers by the cheerleaders at the beginning of the 2nd quarter of the boys' game (starts at 7:30pm) -- once everyone is there, we will go stretch and get ready for our dance!! - be ready for a fun evening with the MHS cheerleaders!!!
Grades 3-5 Parents: This slip is going home today as we start back up Coding Club! We will meet on Wednesdays starting at 3:45 and going until 4:15. You must pick up your child or they walk/bike home, NO BUSES. Start date is January 25th and the signed papers must be back no later than FRIDAY, JANUARY 20th. Any questions, please call Mr. Wasmuth at (620) 382-3771!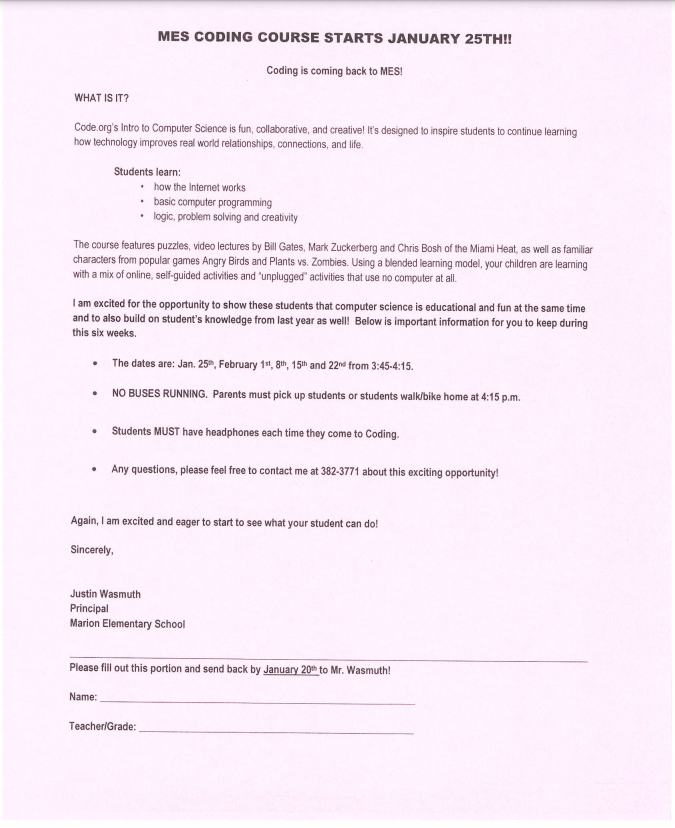 Marion Elementary hosted their annual Spelling Bee. Anna Carlson took first place and Brianna Wesner claimed second. These two ladies will compete at the Marion County Spelling Bee on February 15th in Peabody. The other participants were: Alexis Brewer, Liam Jeffery, Wyatt Holland, Henry Schadel, Tessa Haines, Wyatt Salsbury, Kane Hill, Madalyn Parmley, Bea Madgwick and Noah Richmond. Congrats to all who participated this year!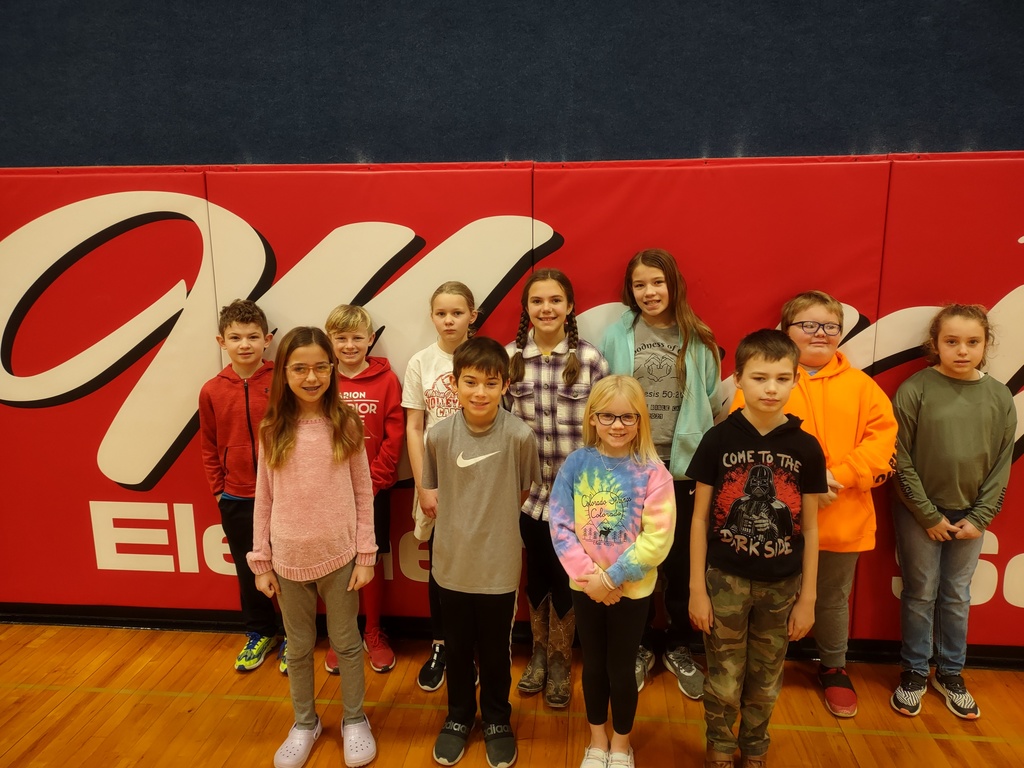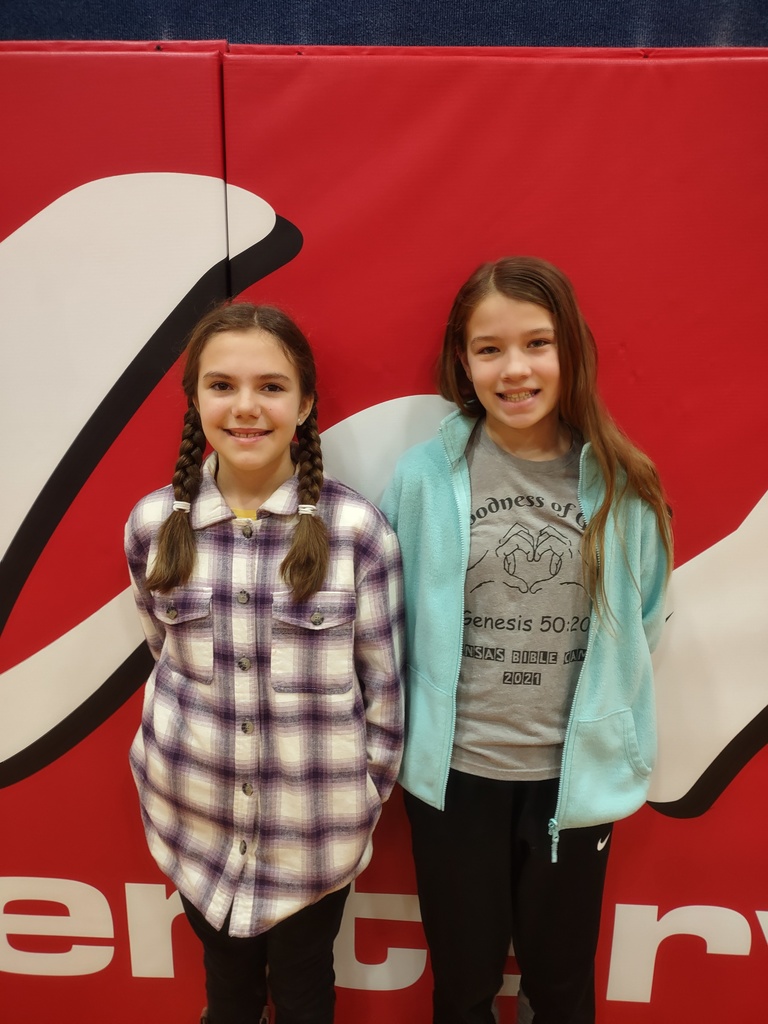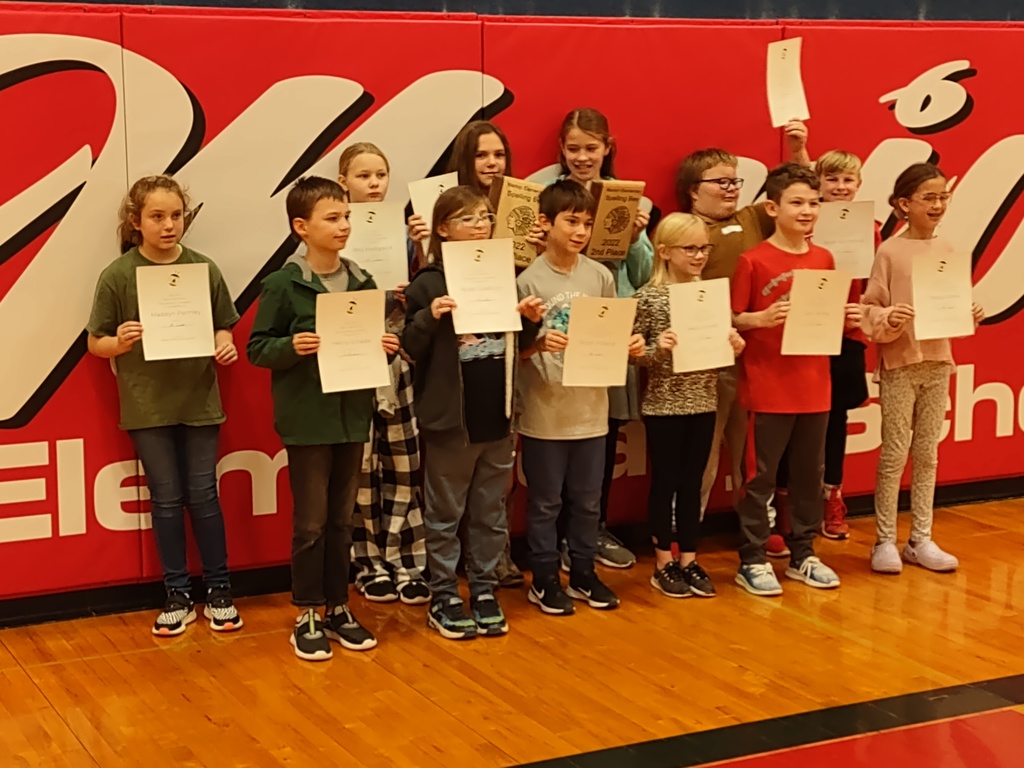 January is such an exciting time here at MES! On Jan. 5th we started our annual One School, One Book read aloud! The WHOLE school will be reading the same book at the same time! There will be trivia questions at the morning assembly, where students answering correctly will win a prize associated with our story. Make sure to ask your student/s what story we are reading on every day. After the book is finished, students will gather in the library to watch the movie version of the story. We will compare similarities and differences between the book and the movie. A yummy snack associated with the story will be enjoyed!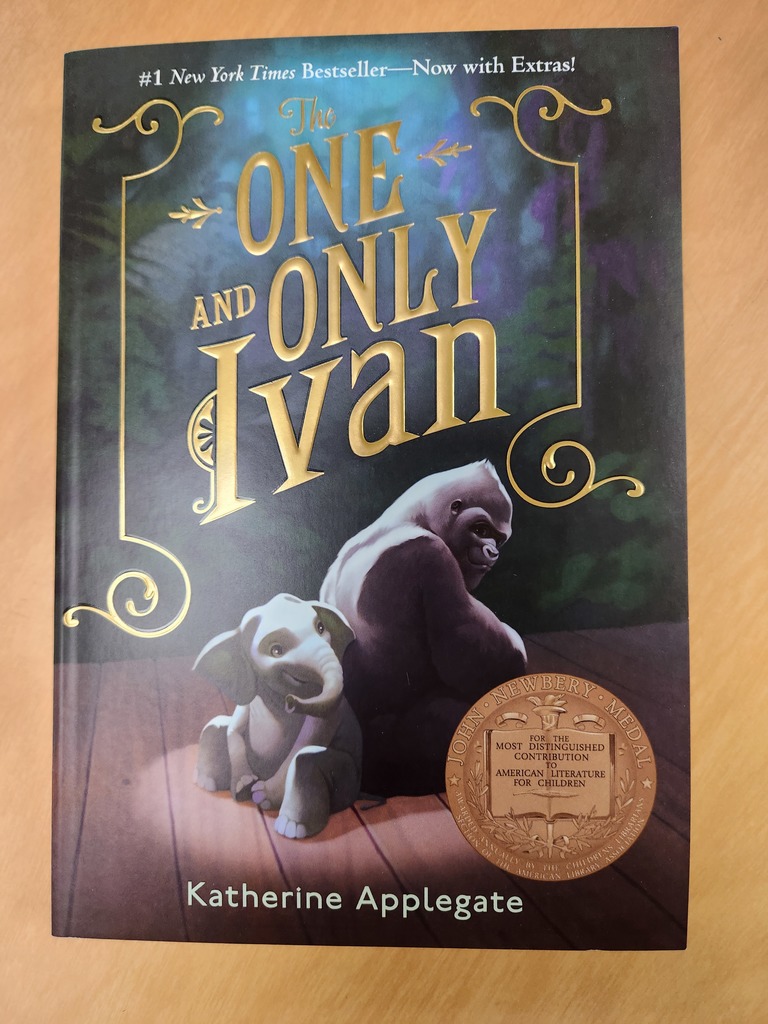 MES Parents: Information from Ms. Rice: The cheerleaders & I are SO excited to see all the girls this Saturday at the SAC for little warrior cheer camp!! Just a reminder: camp time changed to 4:30-6:30pm to accommodate rec league basketball.